Mini excavator Phoenix 400 - Engine 14 hp
The Mini excavator PH400 configuration 14 is equipped with a 14 hp Kohler Pro motor with a 3 years warranty, a double 6 + 6cc pump, oil cooler, a Professional slewing ring, 220 lbs countersweight and a 16" bucket.

This configuration is recommended for a private and semi - professionals use, for poeple wishing to carry out their excavation work and the maintenance of their térrain with a single simple and versatile tool.

It is possible to adapt a size hedge, a telescopic arm, a tarriere or a grapple.
Prices - 14 hp motor
Version

Prix

PH400 14 cv - Ready to use Version

13 800,00 $

PH400 14 cv - Welded and painted version

11 900,00 $

PH400 14 cv - Kit version

10 500,00 $

TPS 5% + TVQ 9.975% applicable- Deposit of 750$ requested for an order
Fill the form and return it to us by email or mail

Attention, the engine power does not increase the power of the machine, it only changes the use and maneuverability of the shovel when using it.
Description Technique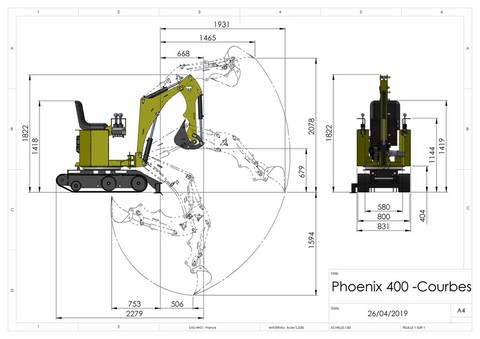 Empty weight: 640 kg
Total height: 1 700 mm
Overall width: 830 mm
Arm
Turret rotation angle: 210°/150° (right or Left)
Detachable arm on the walnut to allow digging along a wall
Maximum height (ground): 1m95 (bucket open)
Maximum depth (of the base): 2m22
Breaking force: 1,6 t
Standard Engine
Engine 14 CV Kohler with electric start
Air cooled engine
Fuel: Gasoline
Type: Single cylinder, 4 stroke - 14 hp
Power: 10.5 Kw
Cylinder capacity: 429 cc
Consumption (at 100% charge): 3 L / h
Fuel tank: 7.4 L

Hydraulic Pump: Double Gear Pump 6 + 6cc
50/50 flow divider (for mini excavator controls)
Oil cooler 20L / min
Operating pressure: 150 bar
Flow rate: 14 + (7 + 7) L / min
Traction Engine: Orbital
Hydraulic tank: 30 LChenille of origin: 180 x 72 x 43